If you watched my last Death Valley Life video, you know that my carpenter friend Mike Z drove all the way out from Hollywood to come stay at the compound and help us with some home repair projects.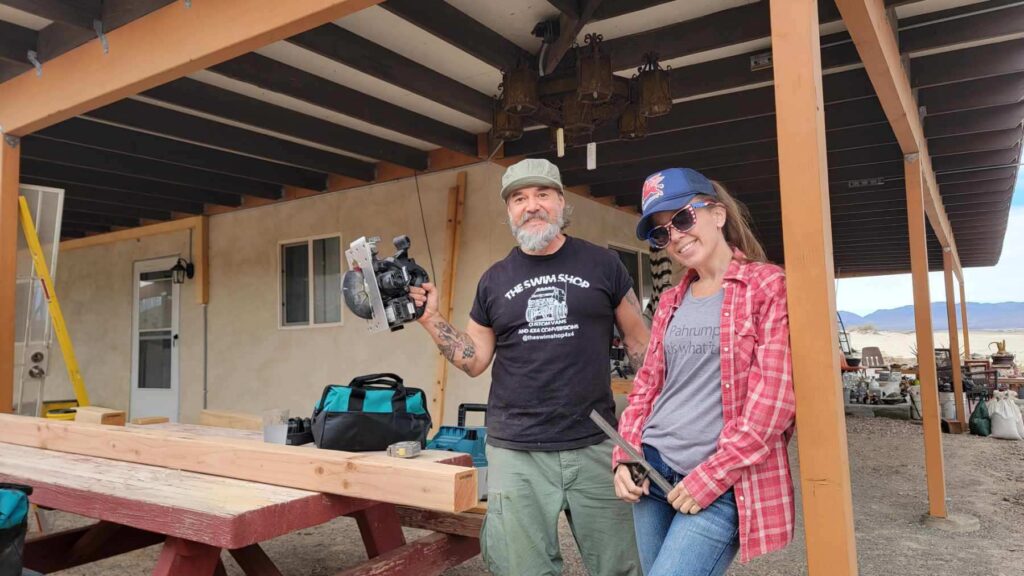 Me and Mike, being manly men
That video ended up running about 29 minutes, but I started out with over TWO HOURS of footage — and not all of it was Mike yakking on about the vintage auto parts he found in the Quonset hut! There was plenty of other stuff going on that didn't make the final cut…and much of it was food-related. Since I'm not really what you would call a cook, I had to take Mike out for his meals — I'm sure he wouldn't have wanted to eat Frito pie every night!
Fortunately, for a tiny outpost in the middle of nowhere on the edge of Death Valley, we actually have some incredible restaurants right in town — and more breweries per capita than any other town in America. (OK, only two — but they're both really good!) So we had plenty of options to keep Mike fed and watered.
Mike being the red-blooded He-Man that he is, of course I had to take him to Steaks & Beer. This little steakhouse is run by an amazing chef who got tired of the B.S. on the Vegas Strip, and moved out to the desert to cook what he wants — which just happens to be big, fat steaks made with the best cuts of grass-fed beef. I'm not kidding — these are gourmet steaks, accompanied by fancy salads and hearty potatoes. And all of this in a tiny little building in the middle of a hot spring resort. Who'da thunk?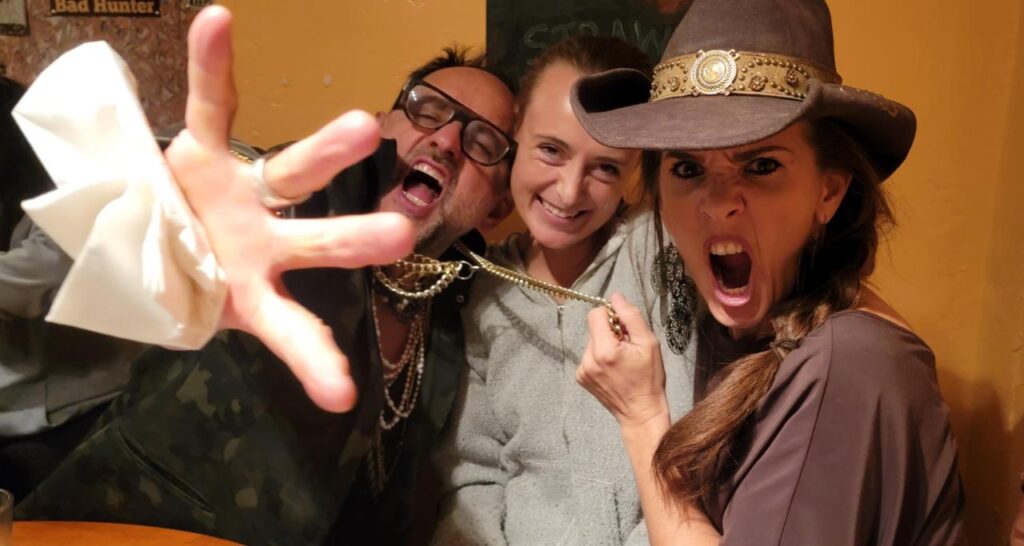 With Carlo and a friend at Steaks & Beer…photo by Mike Z
But I'm telling you, if you're a red meat eater, Steaks & Beer should be on your bucket list! It's so good, in fact, that we took Mike there twice — one night for steak, and one night for the fattest, juiciest burgers you've ever seen. Yum!
We also went over to Delight's Hot Spring resort to eat at the Tecopa Brewing Company for their delicious BBQ – twice. Honestly, I'm not much of a BBQ fan…so I always just get their chili-topped baked potato with coleslaw and honey-butter cornbread. It's actually one of my favorite meals on this planet (after the asada fries in Bridgeport)! But Mike had the brisket sandwich, and said it was out of this world! So if you're a BBQ fan, you definitely want to check this place out sometime.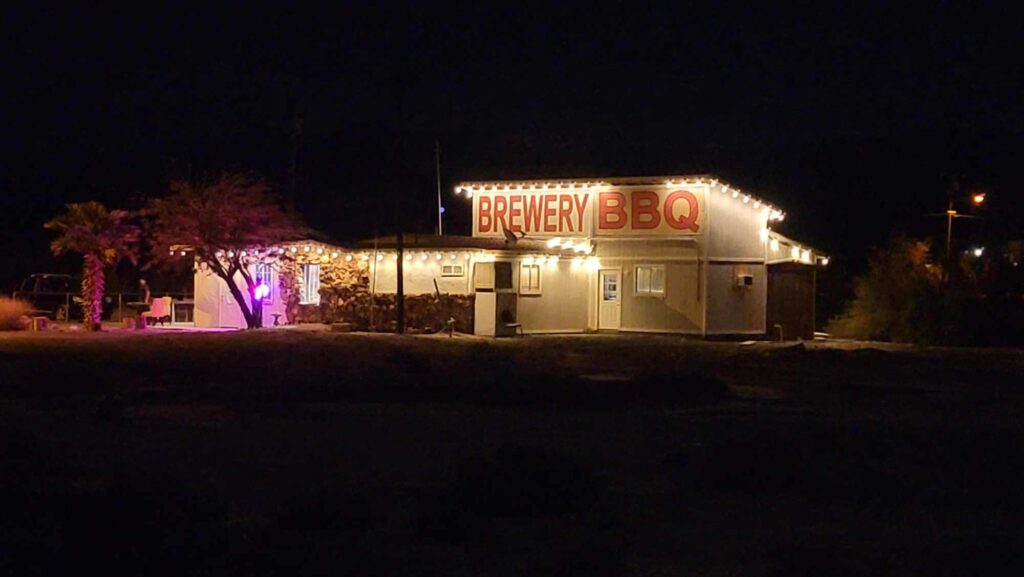 Tecopa Brewing Company serves amazing BBQ
In between patronizing the local restaurants, we also went to dinner parties at Villa Anita – again, twice! Carlo and Jack were very welcoming, and prepared immense feasts for us — with plenty of wine! That's the cool thing about Villa Anita — it's a true bed & breakfast. They actually make their guests a sumptuous breakfast, and will do dinner, too. And dinner usually ends up being a party!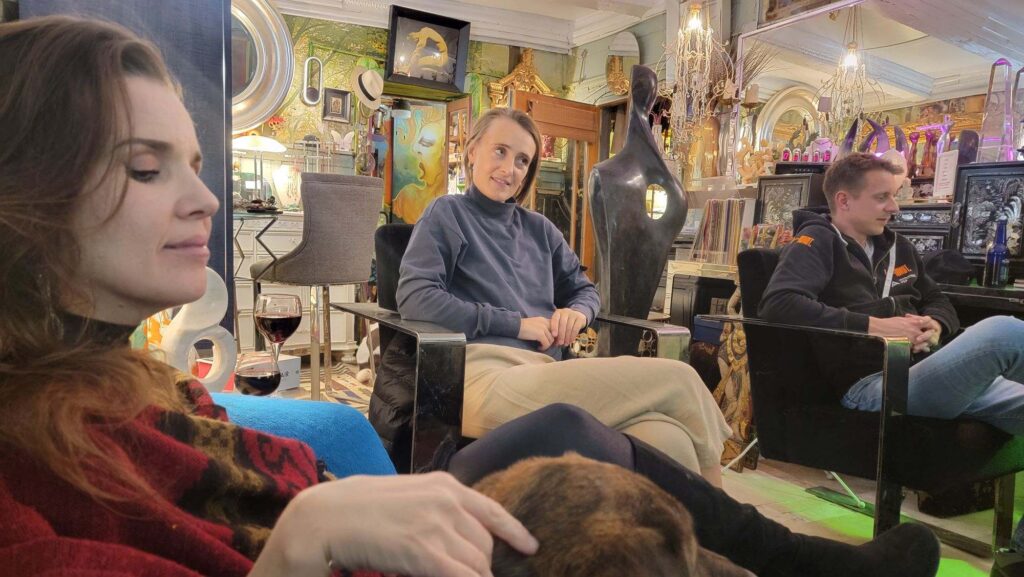 Hanging out at Villa Anita
Speaking of parties…the last night of Mike's visit, we ended up at my favorite local watering hole, Death Valley Brewing. Not to be confused with the Tecopa Brewing Company, which is the place with the awesome BBQ.
Death Valley Brewing is one of those classic dusty desert dive bars you stumble on when you're driving around the outback — rustic and low-slung, and full of interesting characters.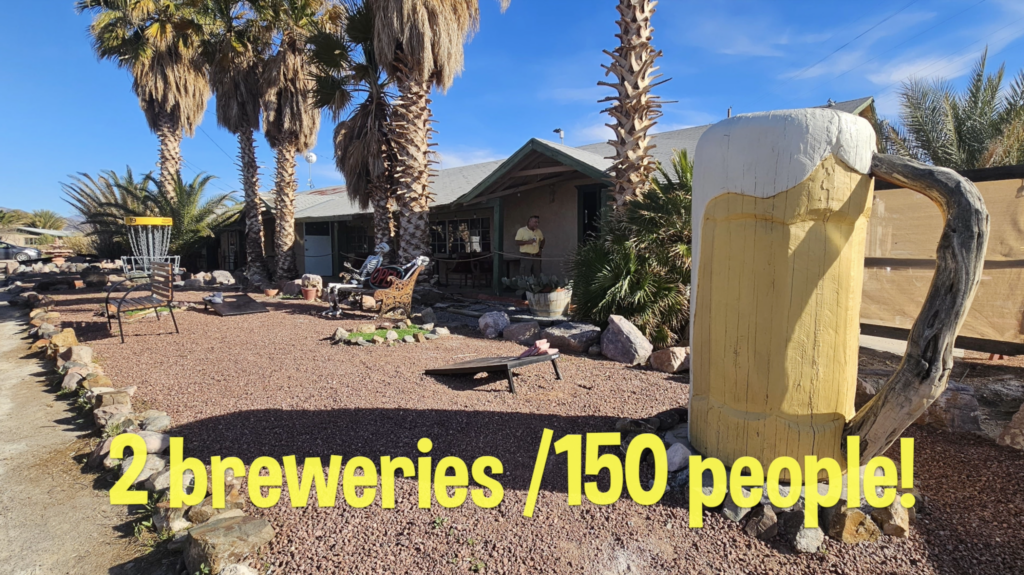 Death Valley Brewing
I guess back in the 70s, 80s and 90s, when this area of the desert had active working mines, there was a dive bar called the Snake Pit right where the brewery is today. I would have loved to have gone there, but unfortunately it closed down way before I moved here. But Death Valley Brewing is pretty amazing on its own!
My sister and I usually try to go over there once a week, to check in on the local gossip. Fortunately for me, Dan the brewmeister also does cider and hard ginger beer…so even a beer-hater like me can wet my whistle while catching up on the latest goings on. It's kinda like the old TV show Cheers — everyone knows your name.
But it's not all locals! Plenty of Death Valley tourists, road bikers, off-roaders, LA hipsters, artists and all manner of desert oddballs wind up stumbling in here, and it can seem like a real oasis — especially on a blustery winter's night. I've seen tourists wander in from the vast, inky darkness of the desert, seeking shelter from the howling winds to find a cheerfully lit room full of boisterous weirdos drinking and carrying on merrily…and it's pure desert magic. I definitely wanted Mike to experience this before he left!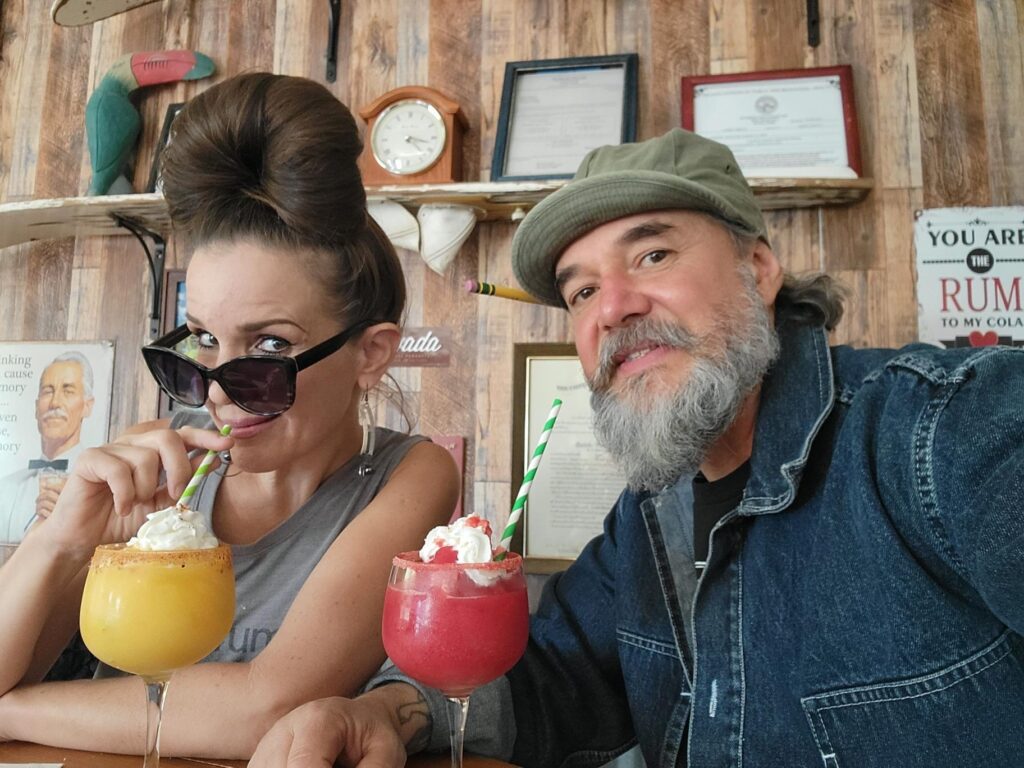 Mike's not afraid to have a girlie drink!
So, on the last night of his visit, we took him to Steaks & Beer for his celebratory steak…and then, even though it was kinda late, a bunch of us thought we'd go over to the brewery and see if they were still open. It was a Monday night, so our hopes weren't too high…but sure enough, brewmeister Dan was still there, chilling by his campfire — and he was happy to go back in and pour us drinks.
It was a great way to end a crazy week — we sat by the fire drinking beer (and cider), swapping stories under the stars until waaaay too late. Around midnight we figured we'd better wrap it up, since Mike had to drive back to Hollywood in the morning, and I had to go to Vegas to run a bunch of errands.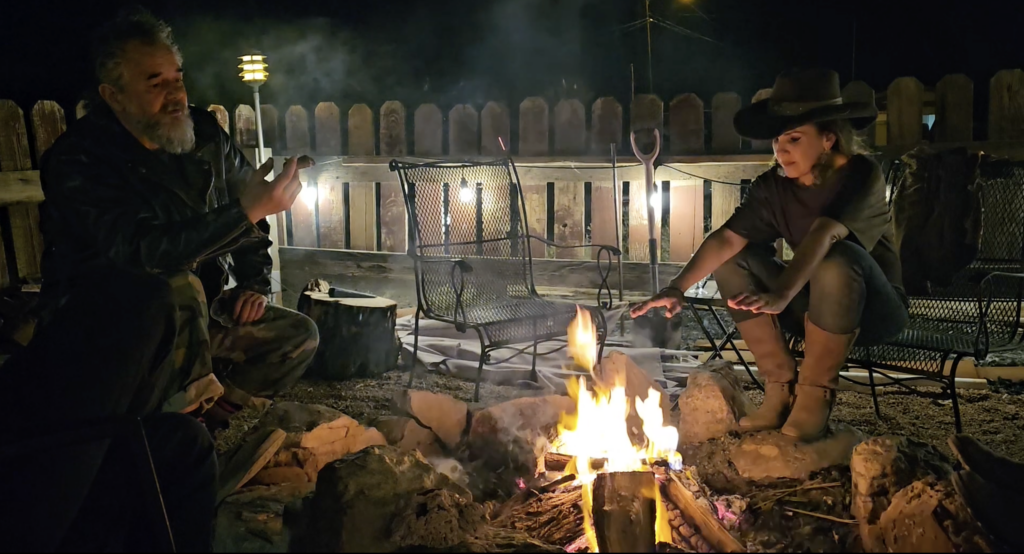 Telling tall tales at the campfire
So we said our goodbyes, and everyone headed home. And at the end of it all…I think I did a pretty good job keeping Mike entertained while he was here working so hard helping us repair our desert compound. He might be from Hollywood, the entertainment capital of the world….
But in my opinion, Hollywood ain't got nothing on these funky little desert outposts!